Minimum support is ok
Planning the Arakawa River cleanup within your organization
Before contacting us,
we recommend you to gather the following information for smooth communication.
Click here for necessary information.
Explore the situation of the Arakawa River litter by AQMAP
*Please contact the secretariat as other groups might plan to conduct activities. contact
・Proposed location of cleanup (Whether you have checked out the site beforehand)
・Date, time, expected number of participants and its attribute (number of children)
・Insurance (Accident insurance/ Liability insurance) etc.
・Any other questions
Want to support? (fee required)
Go onsite. See reality. Feel things.
Clean-aid Social Contribution & Employee Training
"It is not just about "picking up trash" ~ Head and five senses in full operation in Arakawa River~

Develop the ability to experience, learn, and think through the Clean-aid program in Arakawa River, which has two faces: "nature" and "city".
Four characteristics of the Clean-aid CSR & Human Resource Training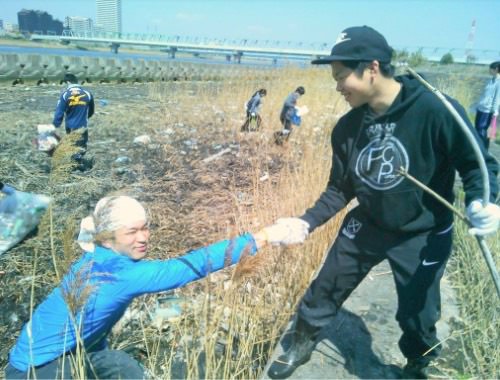 Improvement of teamwork and sociability
Through collaborative work, we can deepen new cooperation and fellowship not only within the organization but also across the organization. In addition, by seeing with one's own eyes the scattered river debris and experiencing to pick them up, it cultivates a sense of social connection and become an opportunity to think about social responsibility.
From a sense of accomplishment to the next step
Clean-aid promotes high achievement and satisfaction. The sense of accomplishment from "became clean" motivates further social contribution activities!
You can come empty handed! Easy and light!
We support the preparation of tools such as garbage bags and tongs and the arrangement of garbage disposal. There is nothing to prepare on the day. To say strongly, just have a "desire to clean" ☆彡
Arrangements such as the number of people and places are possible!
A few people to a few hundred people can participate.
Leave it to us. Fulfilling Support system / Social contribution is now the age of "Quality"
You can leave event management up to us, including safety management.
Please feel free to consult us the workshop and the mood (energy and/or vibes) too.
You can leave tools, preparation and everything to us.
We handle pre/follow-up adjustment such as procedures to administrations or local government.
As we have equipment you can borrow, you don't need to take your time about it.


Incommensurable contribution to society and nature due to overwhelming amount of river litters.
Fulfilling support system by the professional staff. We provide consultation for your concerns anytime by e-mail or phone.
This is the only day our CEO available…That's OK. We are open all the time.
Too busy to go to get consultation…Our staff will come to your company to explain.
Learn more about Clean-aid's CSR and human resource training
SDGs and River/Marine litter problem

Arakawa River Clean-aid is an activity in which various people pick up litters thinking about river/marine litters, water quality, nature restoration, etc., and trying to regain rich nature. Above all, picking up litters with thinking with team members bring all of participant realizations.
From SDGs 17 goals, we set target 6 "Improve clean water and sanitation", target 14 "Develop life below water", target 15"Advance Life on Land" as three highly important targets, and aim to solve river/ marine litter problem by partnership.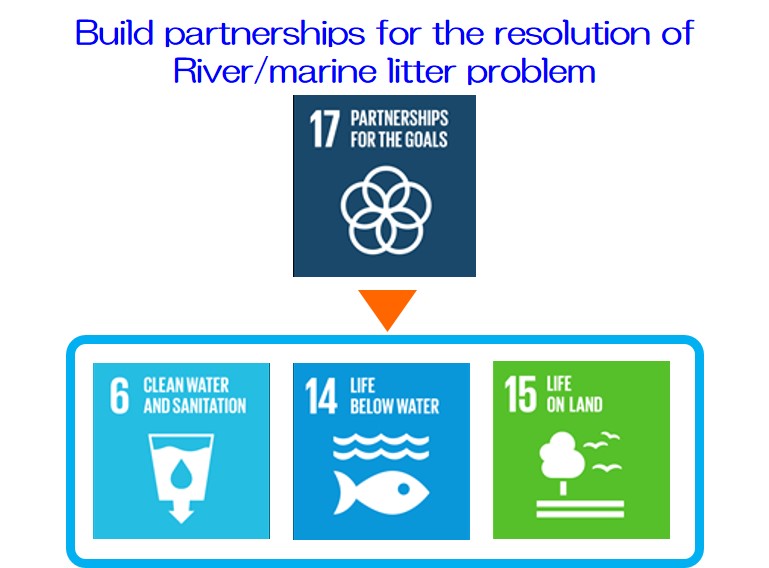 ■As a target, we will focus on:
6.1
By 2030, achieve universal and equitable access to safe and affordable drinking water for all.
6.6
By 2020, protect and restore water-related ecosystems, including mountains, forests, wetlands, rivers, aquifers and lakes.
14.1
By 2025, prevent and significantly reduce marine pollution of all kinds, in particular from land-based activities, including marine debris and nutrient pollution.
15.1
By 2020, ensure the conservation, restoration and sustainable use of terrestrial and inland freshwater ecosystems and their services, in particular forests, wetlands, mountains and drylands, in line with obligations under international agreements
17.17
Encourage and promote effective public, public-private and civil society partnerships, building on the experience and resourcing strategies of partnerships

Why Arakawa River?
There is the term environmental problem.
But think carefully. Is the environment itself causing the problem?
"People" are the cause of many environmental problems. The effects of Arakawa Clean-aid are not limited to the Arakawa River basin.

A program that changes people through "field activities"
Model project for solving river/marine litter problem targeting Arakawa River with a population of 10 million people
The point that the marine litter problem is a trans-boundary problem
A place to experience partnerships with NPOs through activities
Arakawa River Clean-aid (cleaning activity) is a tool to think about things from a broad perspective.