It's not someone else's Issue: The Problem of Marine Litter
The problem of Marine Litter has finally started to be recognized by the society. Recently this problem was discussed in the World Economic Forum as well as G7 Summit. But did you know that 50~80% of the Marine Litter comes from River?
The Problem of River / Marine litter is an ongoing social issue. On this page, we will give you an introduction of "River Litter" and "Marine Litter".
*Report from Ocean Conservancy (2009) states that 95% of Marine Litter comes from land.

Introduction
The world of science grows rapidly – all the information on this page is what is known at the moment. This page will continue to be updated – but please help to keep yourself updated as well.
You can see the Earth from Arakawa River!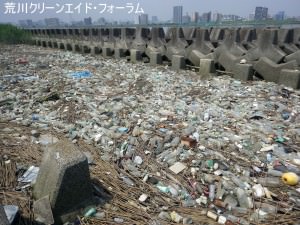 Let's use Arakawa River as an example. Arakawa River flows through urban area. Arakawa's Basin population is around 10m and many people live around the Riverside of Arakawa River, and although it is an artificial river, it holds rich nature. However, the Riverbed of Arakawa is filled with countless artificial trash. This is another side of Arakawa River. The total number of plastic bottles trash that drifted into Arakawa River is estimated to be around 50,000.
*Research on Arakawa's trash is accessible here .

Impact to Ecosystem
Micro-plastics absorbed into Living Creature
Do you know Micro Plastic ? It is a term of plastic trash smaller than 5 mm, spread over our living environment. It has high affinity with harmful chemical substances (PCBs, DDT etc.) in the water, and absorb them. These harmful chemical substances attached to Micro Plastic will be Bio-Concentrated through the food chain. The impact on living creature is still under study (By Yamashita etc. 2016). It is known that plastic trash scattered into nano-size, are physically absorbed into plankton and fly. We need to have precautionary measures for our future.
Binding living Creature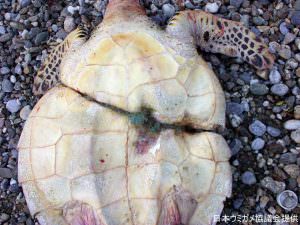 This is a picture of "hawksbill turtle(Eretmochelys imbricata)", a sea turtle. Did it get caught in the fishing net when it was a little turtle? Fishing nets are not easily corroded, and gradually erode see turtles. Just for your information, we hear report that a sea turtle died by eating plastic bags by mistake… it is true they eat plastic bags but there is no strong scientific evidence of eating plastic bags results death of sea turtles.
Flowing to the Sea of the World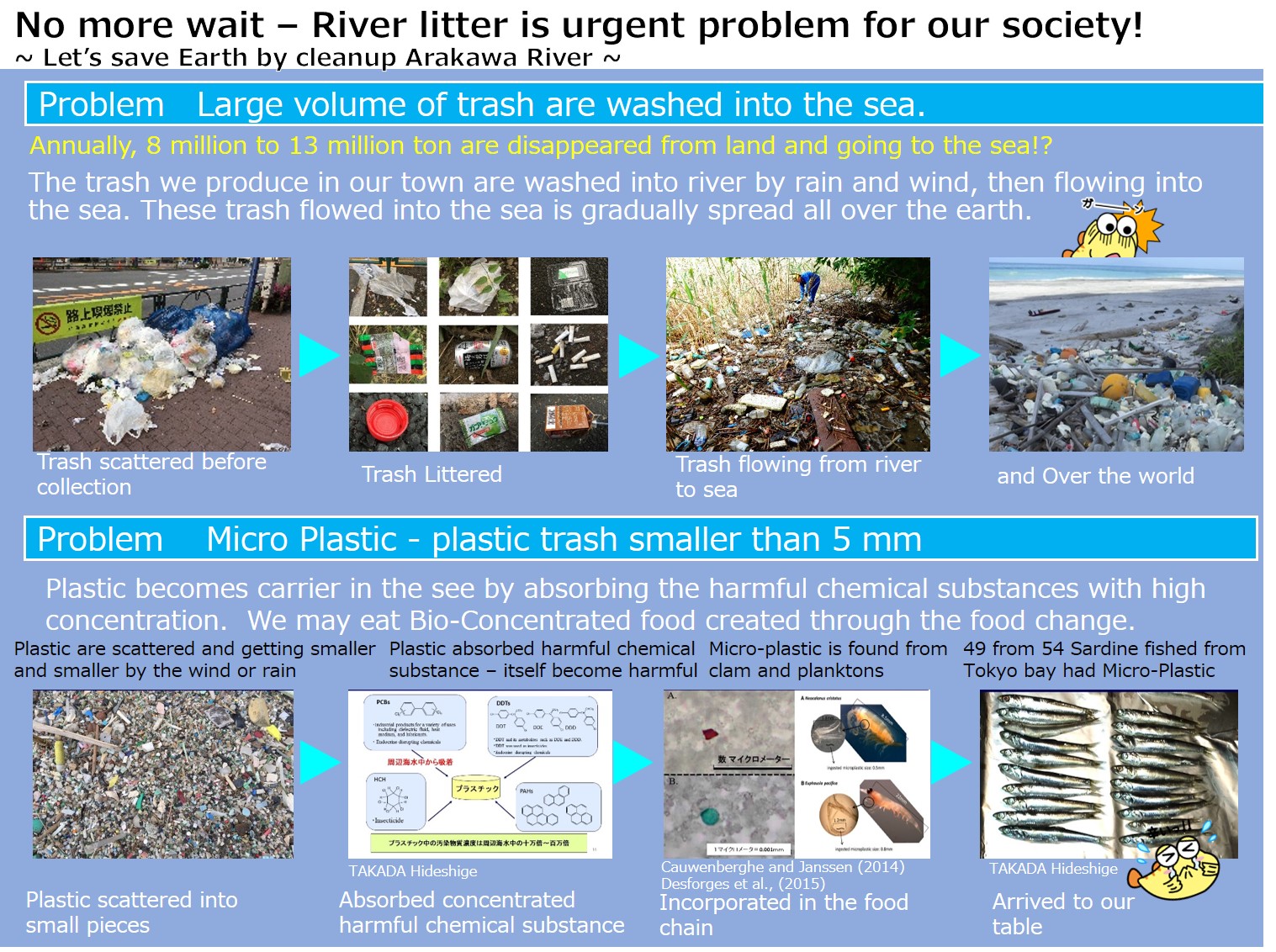 Do you know "Great Pacific Garbage Patch? It is located in the North pacific, halfway between San Francisco and Hawaii. In this sea area, various floating objects are accumulated. There are many artificial trash such as plastics, and it has been reported that sea creature and birds swallow and ingest those trash (Watanuki 2014).
What is ICC investigation?
At Arakawa River Clean-aid Forum, we conduct International Coastal Cleanup (ICC) Investigation. Details of ICC can be seen at JEAN (General Incorporated Association) website.
ICC has been initiated by Ocean Conservatory, a USA based environmental non-government organization. Japan has joined this international oceanic conservation efforts since 1990.
ICC has below listed aspects which investigation results have been applied to Law for the Promotion of Marine Litter Disposal, issued and taken effect on 2009.
Data collected in globally consistent method.
Able to compare data to global data source.
Utilize data to resolving and identifying trash origins.
Encourage enlightenment through investigating trash issues.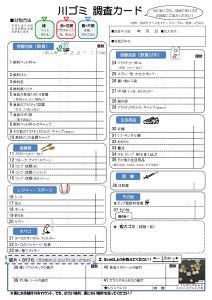 River edition of ICC survey card which Arakawa River Clean-aid Forum deploy. It is an extensive survey requiring 40 check categories. We believe that there is a value in doing something that needs extra efforts. Please use this card to bring added value to the survey beyond simply cleaning the environment.
Facing issues of human generated trash
River and oceanic trash issues are in an essence, how we face and handle plastic and other human generated waste. Plastic has been deep rooted in our daily lives with its versatility, ease of use and sturdiness. We have become so dependent on plastic that as economic growth continues globally, we will continue to see a rise in its usage. We must rethink of how we consume single use plastic products and other human generated trash.
River/Marine litter issue that you are unconsciously involved
You may think this is an unrelated issue to you but…

Micro-beads used in face wash and toothpaste.
*Currently there are no companies using microbeads domestically.

Crows ravaging filled trash bags at collection point.
Vehicle tire wear particles entering water system from the road.
Synthetic fiber discharged to nature through daily laundry.
Recent study shows that there are evidences of micro-plastic found in table salt (Ali et al.,2017) This is an issue impacting not only the river/oceanic waste but also our ecosystem and food supply.
What should we do with trash in nature?
"Early collection" of trash leaking into the nature is as important as addressing the trash issue at the source. Once trash breaks down into small pieces and spreads out over time, it is not possible to collect all in effect.
Receiving grants of the Mitsui & Co. Environment Fund (2016-2019) and support from Tokyo University of Science, Arakawa River Clean-aid Forum conducts survey and research on mechanism for trash to drift ashore and pile up in the Arakawa river mouth area where a large amount of river litter accumulates.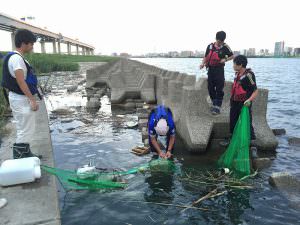 In collaboration with Tokyo University of Science, survey and research are conducted. Through the monitoring of the amount of trash washed ashore, the status of trash heap is captured. Clean-up events are induced, and, effective and efficient collection methods are being sought.
Amount of Trash Leaking into the Ocean
There is a report estimating the amount of plastic waste that flows into the ocean from rivers (Laurent et al.,2017). The report states that major dischargers are Asian countries and that approximately 70% of the global plastic waste is from the world's worst 20 rivers. It is said that presumably 60,000 tons of plastic waste has drifted ashore and accumulated in Japan (Ministry of the Environment, 2016). A general understanding may be that trash washed ashore comes from overseas, but, Japan also discharged a lot in the past. According to Jambeck et al. (2015), the country that leaks the largest amount of plastic waste into the ocean in the world is inferred to be China (3.53 million tons) followed by Indonesia (1.29 million tons) and the Philippines (0.75 million tons).
Recycling Ratio for Plastic Waste
-Taking plastic bottles as an example-
Taking plastic bottles as an example, let's look at recycling ratio. According to a report by the Council for PET Bottle Recycling (2016), the recycling ratio was 86.9% in 2015 (including energy recovery, which is called "Thermal Recycle" in Japanese English), which is rather high considering that the ratio was about 40% in Europe and 20% in the United States. As 20.53 billion plastic bottles were produced in Japan in 2015,10% not recycled equals approximately 2 billion bottles (including those burnt as combustible). 。
If only a small percentage of 2 billion plastic bottles that are not recycled each year should be leaked into the nature, collecting them would require significant efforts.
One challenge is that the physical property may deteriorate depending on the recycling method. The physical property is retained with chemical recycling, which returns plastics to their basic chemical building blocks, but, the flip side of the benefit is that the cost and environmental burden are higher.
Impact to the human body
It is still not really known whether or not micro-plastics may impact to the human body in case they enter the body. Plastic does not dissolve even in strong acid, and since it is a polymer, it does not seem to penetrate into the body, however, it could also imagine that harmful substances and additives that have adhered to such plastics may be released in the body. From another point of view, there is a report (Hall et al., 2015) that mentions the impact of micro-plastics on corals, and it could also gradually lead food problems through the ecosystem.
Anyone can get started easily
Litter picking is one of the easiest social contribution activities, although River/Marine litter problem is not an easy-to-solve issue. In many ways, we can help such activities organized by community-based or company-based organizations, etc.. Please feel free to contact us.
As Social contribution activities and employee exchange programs
Just bring yourself, we have a packaged social contributions program. There are also optional programs such as "Think together about biodiversity and class-room lessons for natural environment. Details
As a new-joiner training course
Foster teamwork by directly experiencing the social problem "River litter" with the five sense, and cultivate system thinking approach with river litter as a trigger. Details
Social issues "River Litter" and SDGs

Pension Fund Management Operation Independent Administrative Institution (GPIF) has selected three ESG indices for Japanese stocks and has started passive investment linked to these indices. Investment that considers the elements of the Environment, Social, and Governance is expected to improve more risk-adjusted returns if the longer the period.
The river litter problem is particularly related to the following five.
6. Improve Clean Water and Sanitation
11. Creating Sustainable cities & communities
12. Responsible consumption and production
14. Develop Life Below Water
15. Advance Life on Land

Cleaning activities around factories and sites are connected to the world!?
Dispatch lecturers
If you would like to know more about the social issue "river/marine litter problem," or want to find out more meaning about the social contribution activities that have already been implemented, we are sending lecturers.
Main achievements in recent years
・Iwate Prefectural Office
・Citizen Science Society/Biodiversity Academy
・Materials Life Society
・NOWPAP (Northwest Pacific Action Plan)
・Global Compact Network Japan
・30th anniversary event 20×20
・Plastics Waste Management Institute
・THE JAPAN PLASTICS INDUSTRY FEDERATION
・Japan Environmental Education Forum (Senior Nature University)
・Sewer exhibition '17           others

To solve the river/marine litter problem
What do we need now to solve the river/marine litter problem? It is necessary for ACF to emphasize rationality rather than the justice and focus on the following. Regarding the use of recycled plastic and biodegradable plastic, considering the total environmental burden at the current technical level, we are trying to find better methods one after another under the present circumstances.
Technology transfer of Japanese management system and collection measures to overseas (world marine litter situation)
Investment in building a waste management/collection system that reduces environmental burden (reduces large amount of trash)
Correction of excess packaging (reduction of disposable plastic)
Support the introduction of appropriate laws and regulations (Update of Coastal Float Disposal Promotion Act)
Use of sustainable alternative plastics (technological innovation is key)
Building Repair and Redesign economy (Nordic repair economics)
Homeless measures (may be one of the root measures)
Art experience with micro-plastics!?
There are also plans for parents and children to enjoy.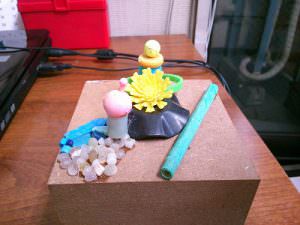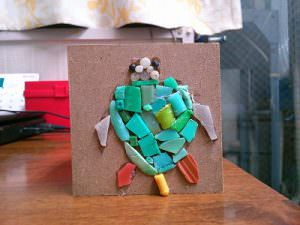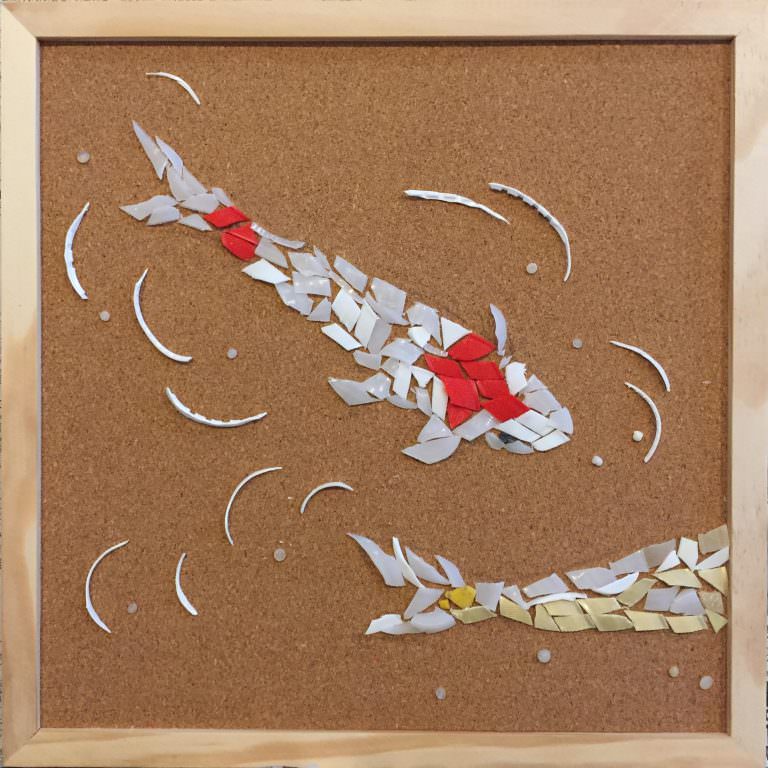 It is a program that parents and children can enjoy both emotionally and wisely. We will arrange the program according to the request such as a workshop using micro-plastics as a material. Collaboration with art NPOs is also possible. Please contact us.

Good for homework during vacation
The river/marine litter problem can be said to be the most suitable subject for summer vacation free study. Please refer to the following for the video material. (There are general and children's products.)
Other biodiversity conservation activitiesClick here

Click on this banner to jump to the page on river and marine litter issues created by 180 degrees consulting Japan.
Reference
JEANクリーンアップ全国事務局(2007):クリーンアップキャンペーン2007REPORT.
Ocean Conservancy( 2009): International coastal cleanup
report 2009, Washington.
綿貫豊(2014):海鳥によるプラスチックの飲み込みとその影響、海洋と生物Vol.36-No.6、pp.596-605.
Jambeck, Jenna R., et al. (2015) :Plastic waste inputs from land into the ocean, Science 347.6223: pp.768-771.
Hall et al.(2015):Microplastic ingestion by scleractinian corals, Marine Biology,Vol.162, Issue 3, pp.725–732.
環境省(2016):海洋ごみとマイクロプラスチックに関する環境省の取組,海洋ごみシンポジウム2016資料.
山下 麗・田中 厚資・高田 秀重(2016):海洋プラスチック汚染:海洋生態系におけるプラスチックの動態と生物への影響、日本生態学会誌 Vol.66、pp.51-68.
PETボトルリサイクル推進協議会(2016):PETボトルリサイクル年次報告書2016、21P.
Ali Karami et.al (2017):The presence of microplastics in commercial salts from different countries,Sci Rep. 2017; 7: 46173.
Lebreton et.al (2017):River plastic emissions to the world's oceans,nature comunications8,article number 15611.